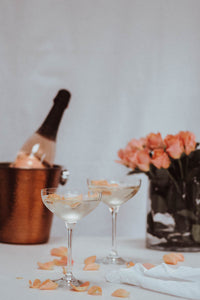 Use this elderflower gin liqueur to make an El-bellini in your prosecco or in sparkling water with a slice of lemon, a few grapefruit segments and some crushed ice.
Try it neat. Chill it way down low in the icebox and take it in a shot glass with a Lemon meringue,  simply divine with a lemon cheesecake or another citrus desert.
Vanilla ice cream in a puddle of Rose Cottage Elderflower liqueur.
Try it 50:50 with Champagne or Prosecco! or for the dainty a girly splash will do the trick!
Or try 70:30 with soda or sparkling water in a tall glass for a gin spritzer that will take you through a summer afternoon. Sharpen it with a splash of grapefruit, or twist of lime!
We try to despatch all products by Royal Mail second class post within 3 working days. If you are purchasing for a birthday try using the note box to send them a birthday wish and we will enclose a postcard with your text handwritten. Also let us know the birthday date and if its time critical we will try to make sure it arrives on time, by early despatch, or upgrading you to first class post.